No, alas, this is not a ficupdate. I hope to get around to that within the next couple of days, but I thought some of you would be interested in the fact that
www.fnowear.com
has made and put up its very first
Harry Potter related t-shirt!
We have the designs for the 'what I'm not allowed to do at Hogwarts' shirts created, but until we buy the screens and blanks, they will still be a work in progress, but in the mean time, my own devious brain came up with our own rendition of the 'Jesus is my Homeboy' shirts.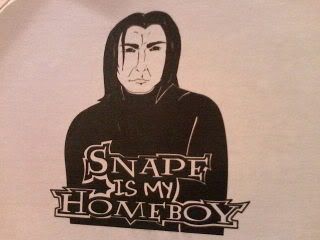 Here's the very first official shirt. The image is kind of wonky because of the angle I took it.
I trust Severus Snape and this is how I intend on showing it! Since most of you are fan
girls
(no offense meant to the actual fanboys out there) I am also
linking you lot to the shirt section of the site
. It is also available in boy sizes. XD!
Seriously, I am so stoked over this.
<3<3<3<3<3<3 my lovely flist for being so patient with me.